Health insurance 101 for employers

By the end of this article – you'll feel ready to shop and compare plans – and make the health insurance decisions that are right for you, your business and your employees.
Protecting Your Small Business
Essentially, health insurance helps small business owners in the following ways:
1. Health insurance protects your finances
Discounted rate: Small group insurance plans provide you with discounted rates for medical care. Insurance companies negotiate rates with health care providers. Without coverage, the fee charged for a regular office visit and other medical services can be much higher.
Protection against the unexpected: Health insurance can protect you from unexpected medical costs. Even if your health plan requires you to pay certain costs out of pocket, being covered can protect you from bankruptcy in case of injury or hospitalization.
2. Health insurance protects your health
As a health plan member, your insurance gives you access to quality care through a network of health care providers.
Access to critical care: When you're insured you have better access to care for medical emergencies and chronic conditions.
Access to preventive care: When you're insured, you may be more likely to take advantage of regular checkups and preventive care often offered at no cost to the member.
3. Health insurance can help protect your business, too
Protection against the unexpected: As a small business owner, unexpected personal medical expenses can take away from your ability to run your business. By limiting your personal liability for medical costs, health insurance can help keep your business operating.
Hiring and retention: Health insurance can help you hire and retain the best workers. Employer-sponsored group health insurance coverage is a valuable enticement in a total compensation package
Key Concepts
The Difference Between Individual and Employer-Sponsored Plans
There are two primary categories of health insurance for small business owners to choose from:
1) Individual or 2) Employer-Sponsored health insurance.
Almost everyone can apply for individual/family insurance, and depending on the number of employees you have and the regulations in your state, you may qualify to offer employer-sponsored coverage.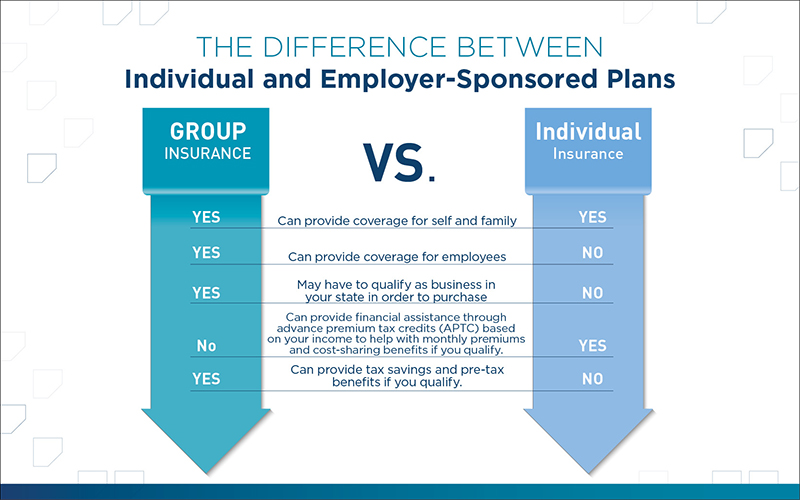 Individual plans
These are health insurance plans purchased by individuals to cover themselves or their families. Almost anyone can purchase an individual health insurance plan, and it's no longer possible to be denied for coverage based on your medical history. You generally need to enroll during the annual open enrollment period, which runs from November 1 through December 15 for a January 1 effective date. Outside of open enrollment, you may only be able to enroll after you've experienced a qualifying life event such as marriage or divorce, the birth or adoption of a child, the loss of coverage, or moving to a new coverage area. Federal assistance may be available to help qualifying individuals with monthly premium assistance and cost-sharing benefits.
Group health insurance plans (Small Employers)
Sometimes referred to as small business plans or group health insurance, this is employer-sponsored health coverage. Costs are typically shared between the employer and the employee, and coverage may also be extended to spouse and/or dependents. These plans also require insurance carriers to no longer ask health questions to quote the group, or deny coverage based on medical history.
Health Plan Types to Know
Whether you're looking at individual or group health insurance, there are several different types of health plans available. Some are designed to provide you with as many choices as possible when it comes to doctors and hospitals. Others are designed to keep costs in check by limiting you to a network of doctors and hospitals. Which type is best for you will depend on how much convenience and protection you want, and how much you are willing to spend. Here's a brief review of four popular types of health insurance plans.
PPO
PPO stands for Preferred Provider Organization. Like the name implies, persons covered under a PPO plan generally need to get their medical care from doctors or hospitals on the insurance company's list of preferred providers in order for claims to be paid at the highest level. It's your responsibility to make sure that the health care providers you visit participate in the PPO. Services rendered by out-of-network providers may not be covered or may be paid at a lower level. A PPO plan may be right for you if:
Your favorite doctor already participates in the network
You want some freedom to direct your own health care but don't mind working within a list of preferred provider
HMO
HMO stands for Health Maintenance Organization. HMO plans offer a wide range of health care services through a network of providers that contract with the HMO, or who agree to provide services to members. Members of HMO plans will typically need to select a primary care physician (PCP) to provide most of their health care and refer them to HMO specialists as needed. Health care services obtained outside of the HMO are typically not covered, except in an emergency. An HMO plan may be right for you if:
You're willing to play by the rules and coordinate your care through a primary care physician
You want to save every dollar possible; many HMO plans typically have lower monthly premiums than comparable PPO plans
EPO
EPO stands for Exclusive Provider Organization. EPO plans are similar to PPO plans but may be somewhat more restrictive when it comes to your network of doctors and hospitals. EPO plans typically do not provide you with coverage outside your network, except in emergencies. EPO plans are becoming more popular with health insurance shoppers, and health insurance companies are offering more of them as well. You're generally not required to select a single primary care doctor with an EPO plan. An EPO plan may be right for you if:
You don't mind getting your care through a specific network of doctors and medical providers
You prefer not to coordinate your medical care through a primary care doctor
HSA-eligible Plans
These plans are designed especially for use with Health Savings Accounts (HSAs). Similar to a flexible spending account (FSA) or 401(k), an HSA is a special bank account that allows participants to save money on a pre-tax or tax-deductible basis to be used specifically for medical expenses in the future. Unlike FSAs, the money in an HSA rolls over every year and can also earn interest. By pairing an eligible plan with an HSA account, participants can save money on health care and earn a tax write-off.
An HSA-eligible plan may be right for you if:
You would like to pay for health care expenses with pre-tax dollars (up to an annual limit)
You're relatively young and healthy and don't often visit the doctor
You prefer a cheaper monthly premium even if it means having more cost-sharing in of unexpected injury or illness
To learn more, request an agent or get a quote.
If you're ready to comparing plans, click here for our coverage worksheet. You can also call us at (888) 535-4831 to talk to one of our experts and start setting up your plan.
Related Content
[Podcast] Key Concepts to Understand - Health Insurance Simplified
4 steps to finding the right coverage for you and your employees