New to Medicare or Medicare Advantage? What you need to know
There are many ways to have Medicare coverage. Two of the most popular ways to get Medicare coverage are Original Medicare with a supplement and separate prescription drug plan (Part D), or an all-in-one Medicare Advantage plan. Let's break down everything you need to know about your coverage options.
What is Medicare?
Medicare is a federal health insurance program for people age 65 and older, as well as younger people with certain disabilities or end-stage renal disease. There are many different parts of Medicare, each covering different health care services:
What are the four types of Medicare coverage?
Medicare Part A
Medicare Part A helps cover inpatient hospital care, skilled nursing facilities, hospice care and home health care. Typically, there is no monthly premium for Part A if you or your spouse paid Medicare taxes for a length of time while working, but some people do pay a monthly premium.
Medicare Part B
Medicare Part B helps cover outpatient care, most preventive care (i.e., screenings, vaccines, wellness visits), medically necessary services from doctors and other health care providers, and certain medical supplies and equipment. Part B typically has a standard premium that must be paid each month. Original Medicare is another name for Medicare Part A and Medicare Part B. It covers most medically necessary services but not the full cost of routine care, nor does it provide vision, dental or other benefits.
With Original Medicare, you pay for services as you get them. The plan includes a deductible as well as a 20% coinsurance cost for all Medicare-approved services and supplies. Drug coverage is not available through Original Medicare and instead would need to be added through a Medicare Part D plan.
Medicare Part C, also called Medicare Advantage (MA)
Medicare Advantage is a Medicare-approved private health insurance alternative that takes the place of Medicare Parts A and B. With MA, you're still in the Medicare program, with Medicare rights and protections including complete Part A and Part B coverage, plus extras.
Not all MA plans work the same. Most offer additional coverage that is not provided through Original Medicare, such as vision, dental, fitness incentives, care for chronic illnesses and even drug coverage.
What you pay and how you get services with a MA plan depends on many things. Most often, MA plans set a limit on the amount you pay out-of-pocket each year for covered services. It is common for MA plans to require you to use participating providers, meaning health care providers who participate in the plan's network, to pay the lowest cost.
Some plans won't cover services from providers outside the plan's network and service area. However, there are MA plans with out-of-network coverage, but often you would pay a higher out-of-pocket cost.
Check with a plan's health insurance company before enrolling to see what benefits you'd receive and if there are any service limitations.
MA plans generally have much lower premiums than other Medicare plans, and if an MA plan includes prescription drug coverage, you don't need to pay for a separate Part D plan. The premium is the same for everyone, no matter gender, age or tobacco usage.
Some plans don't even charge a premium. This is because the plan receives money from the federal government for administering the benefits that would have otherwise been provided by Original Medicare. No matter which MA plan you choose, you will still pay your Part B premium.
Medicare Part D
Medicare Part D is prescription drug coverage to help you with the cost of medication and many vaccinations. Part D plans are offered through Medicare-approved private health insurance companies and have a monthly premium.
If you have an MA plan that includes coverage for prescription drugs, you cannot add separate Part D coverage. Having both will result in you being disenrolled from the MA (Part C) plan and reinstated into Original Medicare.
Medicare Supplement Insurance, also called Medigap
Medigap is a supplemental plan option to help pay for additional out-of-pocket costs: your deductible, copays and coinsurances. Some Medigap plans also provide benefits for services not covered through Original Medicare, such as coverage when traveling internationally.
Premiums for Medicare supplement plans can be based on age, gender or tobacco status. They are generally more expensive than MA plans, and the premium increases with your age.
With a Medigap plan, you still need to pay your Part B premium. And, if you don't have other creditable prescription drug coverage, you will want to enroll in a separate Part D plan to help with prescription drug costs.
What's the process of enrolling in Medicare?
Enrolling in Medicare varies depending on your situation. If you already get Social Security or Railroad Retirement Board (RRB) benefits, you will automatically be enrolled into Parts A and B starting the first day of the month you turn age 65. For anyone whose birthday falls on the first of the month, Medicare coverage will start the first day of the month before your birthday. You can opt out of automatic enrollment by contacting Social Security or the RRB if you so choose.
Anyone with a qualifying disability will automatically be enrolled into Parts A and B after you've received disability benefits from Social Security or the RRB for 24 months. If you have end-stage renal disease, you will need to contact Social Security to determine how and when you can sign up.
Anyone turning age 65 who does not get Social Security or RRB benefits will need to sign up for Medicare themselves. Typically, you would contact Social Security to sign up for Original Medicare. However, anyone who has worked for the railroad should contact the RRB instead.
Choosing the best Medicare plan for you
Each person can choose the Medicare coverage that best fits your needs and lifestyle. In addition, Medicaid is available for those who qualify based on assets and income limits.
It is important to sign up for Medicare on time. Should you not sign up for Part B when first eligible, there may be a delay of your Medicare coverage in the future – up to one year or longer. Plus, you could also have to pay a late enrollment penalty for as long as you are enrolled in Part B.
Every year from Oct. 15 to Dec. 7, there is an open enrollment period where you can join, switch or drop your Medicare coverage. Any changes you make to your Medicare coverage during open enrollment will go into effect beginning Jan. 1 of the next year.
Download your free guide to Medicare Advantage plans from Align powered by Sanford Health Plan.
For more information, contact a Sanford Health Plan licensed agent at (888) 535-4831 on Monday through Friday between 8 a.m. and 8 p.m. CST, excluding holidays.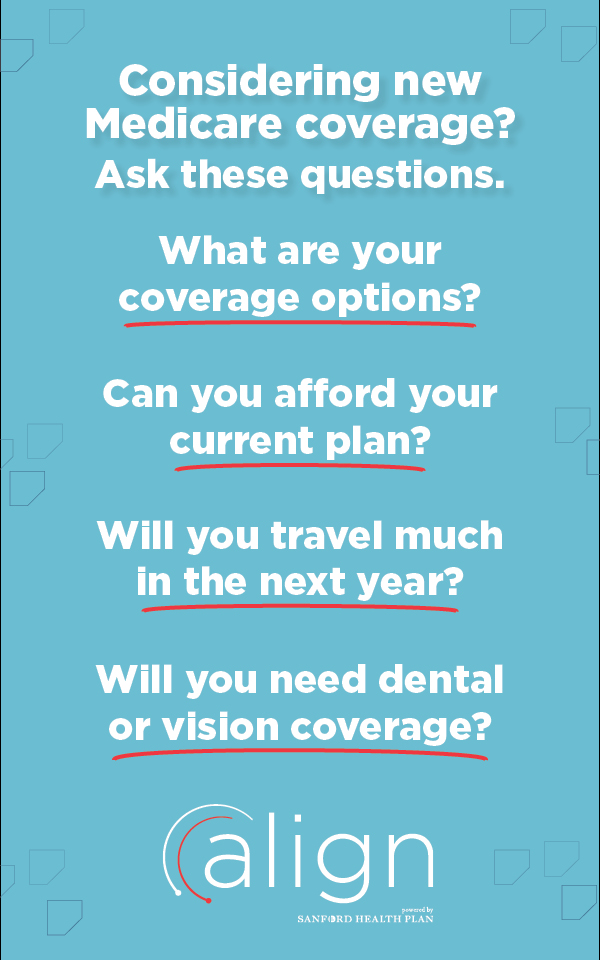 Align powered by Sanford Health Plan is a PPO with a Medicare contract. Enrollment in Align powered by Sanford Health Plan depends on contract renewal. Sanford Health Plan complies with applicable federal civil rights laws and does not discriminate on the basis of race, color, national origin, age, disability or sex.
CMS ID Number: H8385_823-697-647-PY2022-ND-SD_M, H3186_823-697-647-PY2022-MN_M
Last Updated On: 4.29.22 at 10:30 AM