When can I enroll? Enrollment periods explained.

When it comes to Medicare benefits, it's important to remember when to apply. Enrollment is limited to certain times of year and conditions, including your age.
Initial enrollment period
You have a seven-month initial enrollment period (IEP) to sign up for Medicare Part A (hospital insurance) and Part B (medical insurance). Mark your calendar so you don't miss it! Your IEP begins three months before you turn age 65, plus your birthday month and the three following months. For example:
You turn age 65 on March 11. Your IEP is from Dec. 1 (of the previous year) through June 30.
You turn age 65 on June 7. Your IEP is from March 1 to Sept. 30. However, if your birthday is on the first of the month, your IEP occurs as if you were born the month before:
You turn age 65 on May 1, your IEP is from Jan. 1 to July 31.
To avoid a late enrollment penalty for Part B, it is important to enroll during your IEP. This lifetime penalty goes up the longer you wait, though there are exceptions depending on your employer coverage if you work past age 65.
If you currently receive Social Security or Railroad Retirement Board (RRB) benefits, you are automatically enrolled into Medicare starting the first day of the month you turn age 65. People with a qualifying disability are automatically enrolled after receiving disability benefits from Social Security or the RRB for 24 months. Those with end-stage renal disease will need to contact Social Security to determine eligibility and enrollment.
Anyone not collecting Social Security or RRB benefits before your IEP will need to sign yourself up for Medicare, which can be completed online or by contacting Social Security. Whether or not you are automatically enrolled, you still have your IEP – during which you can change your Medicare coverage.
You can also enroll in Medicare Part C (Medicare Advantage) during your IEP. You will need to enroll in Parts A and B to join a Medicare Advantage (MA) plan.
Special enrollment period
You may also have the chance to sign up for Medicare during a special enrollment period (SEP). An SEP is when you meet the requirements to enroll in a health plan outside of open enrollment due to a qualifying life event. Qualifying life events include losing health care coverage, moving, getting married, having a baby or adopting a child.
You can enroll in Parts A and B during an SEP if you did not sign up for them when you were first eligible due to having group health plan coverage from a current employer. A current employer can be:
Your own employer
Your spouse's employer
A family member's employer if you have a disability
Anyone who works past 65 may qualify to delay Medicare without a penalty due to having creditable employer coverage. Once you stop working, you have an 8-month SEP to enroll in Part A if you haven't already, as well as Parts B, C or D without late penalties.
General enrollment period
Jan. 1 to March 31 is the general enrollment period. If you missed your IEP and did not qualify for an SEP, you can enroll in Medicare Parts A and B during general enrollment. Coverage will begin July 1 of that same year.
Open enrollment period
If you are already enrolled in an MA plan from Jan. 1 to March 31, you can make one change during the open enrollment period. Your options include:
Switching from your current MA plan to another MA Plan with or without drug coverage
Disenrolling from MA and returning to Original Medicare
If you enrolled in an MA plan during your IEP, you can:
Switch to another MA plan or return to Original Medicare
During open enrollment, you cannot:
Switch from Original Medicare to a MA plan
Join a Medicare drug plan (Part D) if you're in Original Medicare
Switch from one Medicare drug plan to another if you're in Original Medicare
Annual enrollment period
You can enroll, change or unenroll from Medicare health (Parts A and B) and prescription drug plans (Part D) from Oct. 15 to Dec. 7 of each year. Your coverage begins on Jan. 1 of the next year.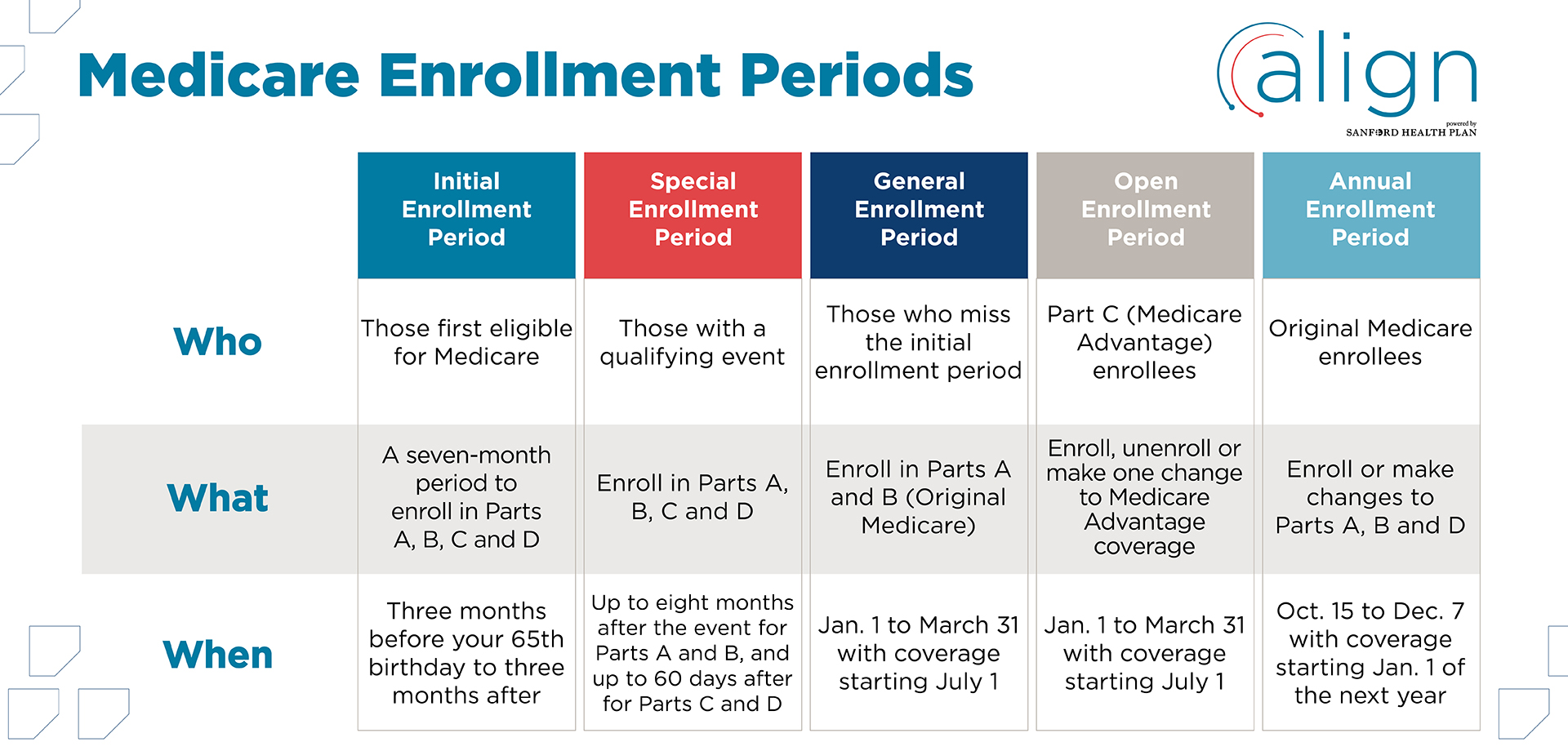 Download your free guide to Sanford Health Plan Medicare Advantage plans today.
For more information, contact a Sanford Health Plan licensed agent at (888) 535-4831 on Monday through Friday between 8 a.m. and 8 p.m. CT, excluding holidays, to learn more.
Align powered by Sanford Health Plan is a PPO with a Medicare contract. Enrollment in Align powered by Sanford Health Plan depends on contract renewal. Sanford Health Plan complies with applicable federal civil rights laws and does not discriminate on the basis of race, color, national origin, age, disability or sex.
CMS ID Number: H8385_HP-4006-PY2022-ND-SD_M, H3186_HP-4006-PY2022-MN_M
Last Updated On: 3.31.23 at 10:30 AM