How value-added services help you save

It's a scenario every working parent knows too well – your child wakes up in the middle of the night not feeling well. Whether it's an ear infection, an itchy rash or the flu, you want to get them care as soon as possible to relieve their symptoms – and worrying about missing work can add to the stress.
The time it takes to visit your local clinic may seem like forever when your little one is not feeling their best and you need to maintain your routine. Thankfully, you have another option covered under your Sanford Health Plan health insurance – virtual care.
The convenience of virtual care
In just a few minutes, you can have your child seen by a provider through your phone, mobile device or computer. Your child gets the care they need quicker, and you all can get back to life as normal sooner.
Sanford Health Plan provides unlimited virtual care visits under select plans for both small and large employers. We're here to help you save time and money – so you can receive the care you need when you need it, no matter what obstacle you're facing.
The benefit of value-added services
Virtual care is just one of the many value-added services your health insurance plan can include. Value-added services make a difference in helping you, your employees and their dependents stay healthy, reduce missed work and keep business operations running smoothly.
With value-added services, you also have more to offer your employees, whether they are new or have been with your company long-term. Plus, they keep your business moving forward.
As part of an integrated health system, you can use My Sanford Chart, a mobile app that lets you view your coverage details, schedule doctor appointments, view test results and – most importantly – meet with a provider within minutes.
When comparing health insurance plans, value-added services take your coverage further. This benefits your business by protecting business operations and keeping your employees happy and at work.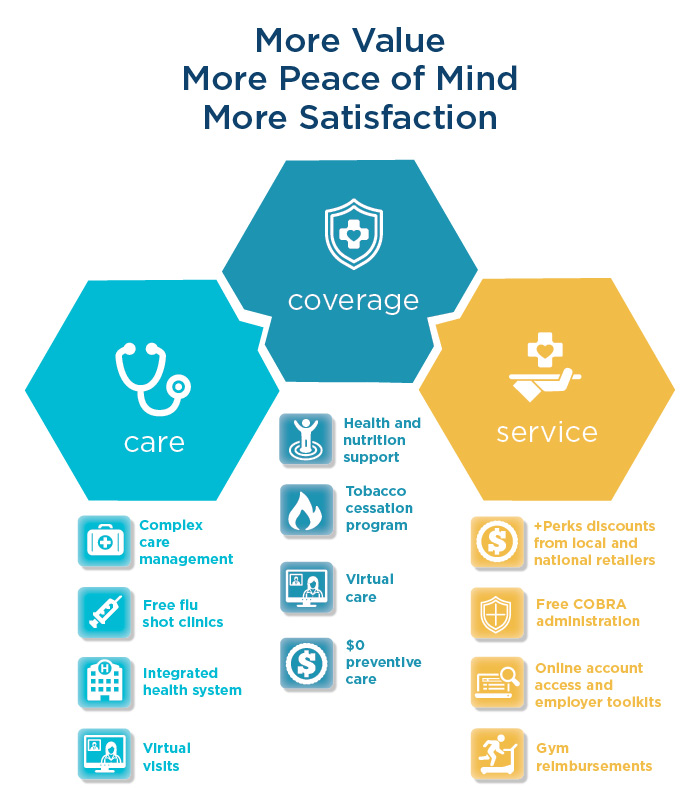 Get more from your health insurance with Sanford Health Plan. Our value-added services for small business health plans include:
Access to a variety of wellness programs, from preventive care to nutrition consultations, tobacco cessation assistance and more
Discounts on products and services from local and national retailers in a variety of categories, including automotive, dental and vision through +Perks
Monthly gym reimbursements at various locations to promote an active lifestyle and increase employee well-being and satisfaction
Free COBRA administration via Wex to assist with contacting your employees about their health insurance notices
Free flu shot clinics for your employees that split the cost of the vaccine with Sanford Health Plan
Partnership opportunities within our integrated health system to give you the services that fit the unique needs of your employees
If you're ready to learn more about your options, download our Your Premiums Go Farther Employer Guide. You can also call us at (888) 235-8363 to talk to one of our experts or get a quote.
Related Content
The benefits of a strong wellness program
Why you should offer health insurance as a small business owner