The benefits of a strong wellness program

When employees are thriving in the workplace, they are twice as likely to thrive socially, financially, physically, emotionally and as a community member.
And when an employee's needs for well-being are met in all six areas, they are more productive, happier at work and could potentially have lower health care costs.
By having a strong wellness program as a business owner, you can increase employee satisfaction and your bottom line. That's why Sanford Health Plan has a wellness team ready to connect your employees to hands-on wellness resources.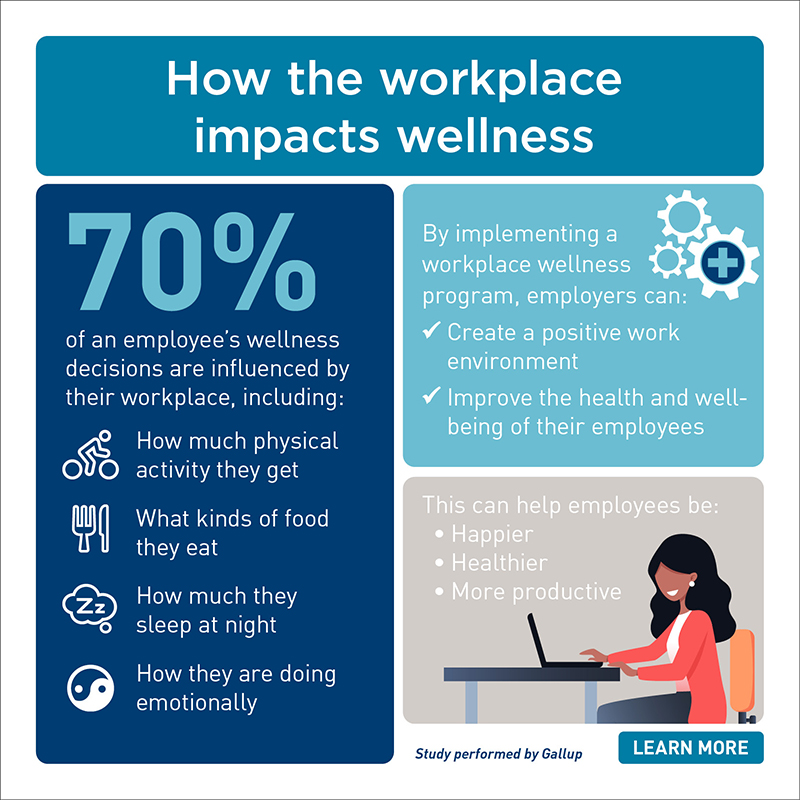 Wellness working for you
When you become a Sanford Health Plan member, we partner with you to provide health and wellness screenings during 15-minute, one-on-one sessions. This allows you to take the pulse of your workforce's health while exposing areas for improvement, so you know where to focus your efforts.
For example, if your screening report shows your employees are experiencing a lot of stress, a wellness coach can connect your employees to mindfulness experts. They can then pinpoint daily triggers of stress and problem-solve for solutions.
We also offer three signature programs to help your employees build a foundation for long-term health and well-being. Through our Diabetes Prevention Program, a wellness coach can lead your employees through steps to create a healthy lifestyle and reduce their risk of developing Type 2 diabetes. Similarly, our Lifestyle is Medicine program encourages sustainable behaviors, while our Exercise is Medicine program equips your employees with the tools they need to decrease health risks.
Why wellness works
After graduating from the Lifestyle is Medicine program, employees with an obesity diagnosis reduced their body mass index by an average of 4%. Those with Type 2 diabetes reduced their glucose levels by 59 points, bringing them down to a pre-diabetes glucose range. Overall, employees increased their physical activity by an average of 106%.
Focusing on wellness at work can transform the health of your employees. And by partnering with Sanford Health Plan, you'll have a team of physicians, certified exercise specialists, dietitians and other experts alongside you on the journey.
Ready to learn more about how we can help your employees live healthier and happier?
If you're ready to learn more, download our Your Premiums Go Farther Employer Guide. You can also call us at (888) 535-4831 to talk to one of our experts or get a quote.
Related Content
Why you should offer health insurance as a small business owner