Top 10 things to consider when looking for small business group health insurance

You invest a lot into your business and your employees—time, money, sweat equity and much more—but you may be missing out on an investment that can help you on just about every front in the fight to stay competitive. Purchasing group health insurance might seem like just one more expense that eats away at your bottom line, but it could make a major difference on your pathway to success.
Here are a few things to keep in mind as you consider the best fit for you and your business.
Why purchase group insurance for your small business?
1. Protect your finances.
Since Sanford Health Plan negotiates with providers on your behalf, we can offers discounted rates on the medical care you and your employees receive.
2. Protect your (and your employees') health.
Our plans provide access to preventive health care and screenings that can keep your costs down by keeping you and your team healthy and out of the hospital.
3. Protect your business.
Unexpected medical expenses (and preventable illnesses within your employee population) can put a strain on your budget. Having group health insurance for yourself and your teams gives you added peace of mind in the face of an unpredictable world.
4. Attract (and retain) the best:
In this competitive environment, you need every edge you can get. Providing affordable health benefits will help you attract the best and brightest to you organization in the short-term and pay dividends down the road in terms of employee retention.
5. You can enroll in group health insurance for your business at any time.
You don't have to wait for an annual enrollment period to get small group health insurance for your business. Contact Sanford Health Plan any time during business hours to get started.
What kind of plan is right for my business?
We're here to take the mystery out of the alphabet soup that is health insurance. Here's a quick breakdown of the kinds of plans you might consider.
6. HMO:
Health Maintenance Organization plans offer a wide range of health care services through a network of providers that contract with the HMO, or who agree to provide services to members. While these tend to cost less per month, if you get your care outside the network, it's typically not covered (unless it's an emergency).
7. PPO:
Members within Preferred Provider Organization plans generally need to get their medical care from doctors or hospitals on the insurance company's list of preferred providers in order for claims to be paid at the highest level. This is ideal if you want a little more freedom than an HMO typically provides and/or your preferred provider(s) already participates in the network.
8. HSA-eligible plans:
Similar to a 401(k), this special bank account allows you to save money on a pre-tax or tax-deductible basis to be used specifically for medical expenses in the future. This can be a great way to keep money on-hand for medical needs while keeping premiums low. If your employees are generally young and healthy, this might be right for your business.
Other things to consider:
9. What are the most important aspects of a health care plan for your employees?
Is it cost? Flexibility? Certain types of health benefits? Providing the right kind of plan improves employee satisfaction.
10. How much can you afford?
In many states, business owners are required to cover at least 50 percent of the monthly premium for their employees. Keep this in mind when considering quotes for health plans.
If you're ready to learn more, click here for our health insurance guide for small businesses. You can also call us at (888) 535-4831 to talk to one of our experts and start setting up your plan.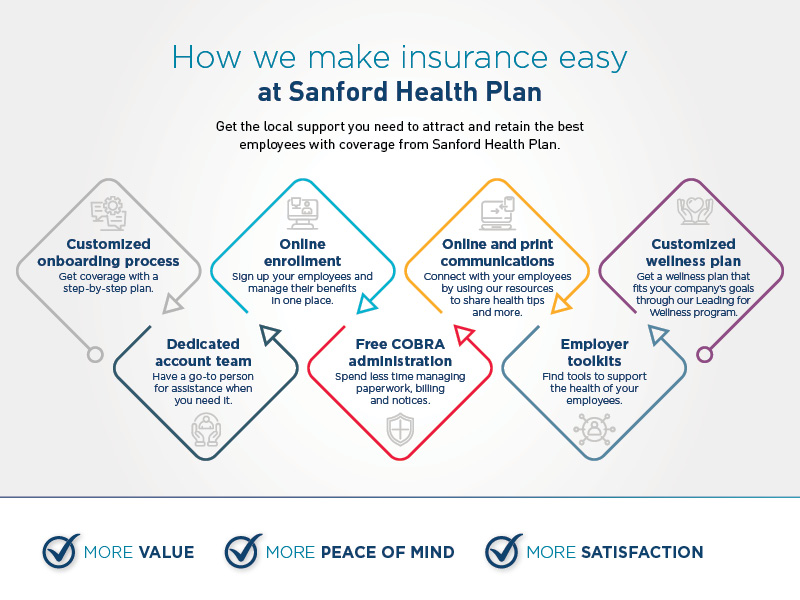 Get more from your health insurance with Sanford Health Plan for Business. If you're ready to learn more, view our health insurance guide for small businesses. You can also call us at (888) 535-4831 to talk to one of our experts or get a quote.

Related Content
[Podcast] Criteria to Use When Shopping - Health Insurance Simplified
4 steps to finding the right coverage for you and your employees